The Galapagos Islands consists of 6 main islands 12 smaller islands and over 40 islets. The Galápagos are a 'melting pot' of marine species. Ongoing seismic and volcanic activity reflects the processes that formed the islands. These processes, together with the extreme isolation of the islands, led to the development of unusual animal life. Many people come from all over to see the turtles, whale sharks, hammerheads, colorful fish and other underwater marvels. Taking a land tour to see the islands themselves is a bonus that most divers enjoy as well.

Diving in the Galapagos Islands
By Enid Glasgow

The Galapagos Islands are known for many things. The same natural wonders that made the Galapagos such an interesting place to study by pioneers like Darwin have also made it an interesting place to vacation. Outdoor enthusiasts from all corners of the world who are traveling on a variety of different budgets make the trek to these islands every year. Whether they find interest in the unique bird populations on land or the one-of-a-kind underwater environment, these travelers share in common a true interest in adventure travel.




Photo: galapagosconnection.com

For underwater adventurists, the Galapagos Islands provide a unique experience. Thriving reefs, marine life and some of the best underwater visibility (often 100 feet or more) on the planet help to give the Galapagos Islands a reputation as one of the seven underwater wonders of the world. This is partially due to the fact that around 70,000 square kilometers of Galapagos marine areas are considered to be protected and the islands are far enough out of the way to make the destruction of this environment less likely.

What you can expect from a Galapagos diving Trip
To begin with, the Galapagos Islands offer something for divers of all skill levels. That being said, the water conditions of many dive areas are much more appropriate for intermediate and advanced divers. For any diver, the Galapagos is sure to deliver a life changing experience.




Photo: rphs.devisland.net

Currents - Due to strong currents, most dives done in the Galapagos are drift dives. Throughout different seasons, the Humboldt and Panama currents affect dive conditions. Divers not experienced in drift diving may want to steer clear of the dives offered in current-heavy areas.

Water Depth - While there are plenty of dives which take place shallower water, many of the most impressive dive experiences are to be had at deeper depths around 70-100 feet and beyond.

Temperature - Thermoclines play a big role in diving in the Galapagos. Surface temperatures reach between 18 and 30 degrees Celsius throughout the year. These temperatures can fluctuate as much as 5 degrees Celsius as you descend.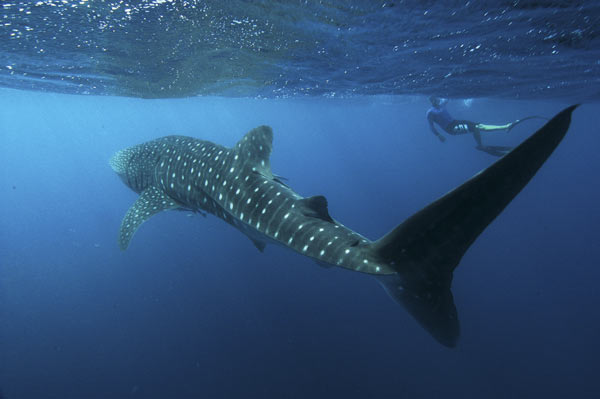 Photo: elasmodiver.com

Marine Life - Expect to see abundant marine life on any dive in Galapagos. As this area has been protected from hunting for quite some time, various marine specie populations have grown tremendously. Sharks, rays, sea lions, whales, reef fish and much more are not uncommon sites. In fact, rare whale sharks are seen fairly regularly in some dive zones.

Safety
Travelling with an experience dive company is important. It's also important to make your level of dive experience clear to your dive guides. Many dive charters do provide on-board safety equipment so you should ask about that as well. Lastly, since 2001, a hyperbaric chamber has been available in the Galapagos in case of emergencies.




Photo: galapagosyachts.com

Whether you trek to the Galapagos on a live aboard dive charter or enjoy a luxury cruise through the islands, take at least a couple days to explore everything the Galapagos have to offer, under the surface. A dive opportunity like you'll find in the Galapagos would be a shame to miss and an experience to remember.

Enid Glasgow is a travel writer who enjoys traveling to remote destinations. She enjoys traveling with Big Five Tours, providers of Galapagos cruises and luxury travel tours.



Galapagos Inn Hotel, Buzios



Photo: chimuadventures.com

To discover most of Buzios with ease, guests can use Galapagos Inn Hotel as their home base. Every room is equipped with the home comforts you would expect from a hotel of this class. The combination of Buzios's rich culture with modern conveniences and superb service makes this hotel stand out. For your reservation at the Galapagos Inn Hotel Buzios, simply select your dates and fill in our secure online booking form.