You'd think that in a world that is over 70% water, finding diving destinations would be an exercise in taking a dart, finding a map on a wall, closing your eyes and letting it fly. But oh no, all too often we wrestle with pamphlets when all we really want is to slip on our masks, verify our diving gear and check that our travel insurance covers our passion for underwater adventure. There is always a need to find that new hidden gem, that fresh secret spot, that undiscovered ripple of water that, once broken, reveals to us the hidden rewards of the deep. But the more we look, the less we find and the more frustrated we become. But fear not, brave aquatic explorers, there are still hidden treasures to be found (even if someone else found them for you first).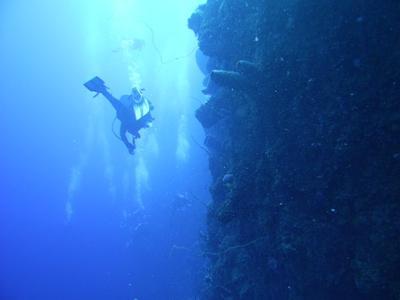 Photo: scuba-diving-smiles.com

Bloody Bay Wall, Little Cayman
Don't let the name scare you away. A particularly special jewel in the Caribbean Sea, this terrifyingly named vacation spot boasts some of the clearest water, providing excellent conditions for underwater photography. Combine that with some beautiful sun rays bathing the water in glorious light and not only will you have an amazing time while you're there, the pictures you'll take will make everyone jealous they didn't tag along when they had the chance. But lighting conditions and sunlight aren't enough to make pictures beautiful—you need something special to fill those memory cards. And that's where the Bloody Bay Wall name comes into it. With a wall that begins at 18 feet and is covered in both coral and sponges of all shapes, colours and types, the only proper way to describe the Bloody Bay Wall seems obvious--bloody beautiful.





Photo: jon-schmid.com

Walker's Cay, Nassau Bahamas
Perhaps shutter bugging isn't your thing and you want a bit more excitement for your underwater adventure. If that's the case, you should be heading to Walker's Cay, Nassau in the bewitching Bahamas. In this captivating place you can test your aquatic mettle against the unparalleled predator of the sea—the shark. But before you let panic set in, bear in mind that in Walker's Cay, hanging out with sharks is fully supervised by a trained dive-master who occupies the mouthy monsters with bait—a detail you can leave out when you impress your friends with your tales of daring do.



Photo: caribbeancruiselinedestinations.com

St-Croix, U.S. Virgin Islands
But what, you ask, if you want it all? Then, my friend, I say head over to St-Croix in the U.S. Virgin Islands. You can indulge in some beach dives, if that's your thing. If your desire leans toward exploring reefs, that's on the table too. Have an urge to drift through the wreck of a ship? Go for it. Indulge in your inner espionage impulses as you partake in a night dive. From spectacular drop-offs to underwater trails, you'll find everything you want in St-Croix.

There are so many choices to explore and so many adventures to be had. Just remember that cheap travel insurance is a must!