In the borderland between Malaysia, Indonesia and Philippines there are three world-class dive destinations located within sight of each other. Sipadan is a tiny oceanic island less than an hour from the mainland where rich currents bring food which brings fish, which brings bigger fish, which brings more and more fish, sharks and turtles.



Photo: dailyscubadiving.com

The dive sites are peppered around the island and none is more than a short speedboat ride away from the nearby dive resorts. Kapalai with a resort built on stilts in the middle of the sea, and Mabul - an enchanting island where every coconut tree has its own number. The geographic position of Sipadan puts it in the centre of the richest marine habitat in the world, the hearth of the Indo-Pacific basin. More than 3000 species of fish and hundreds of coral species have been classified in this richest of ecosystems.

Sipadan is well known for its unusually large numbers of green and hawksbill turtles which gather there to mate and nest and it is not unusual for a diver to see more then 20 turtles on each dive. Another unique feature to dives visiting Sipadan in the turtle tomb, an underwater limestone cave with a labyrinth of tunnels and chambers that contain many skeletal remains of turtles that became disoriented and then drowned. For environmental reasons this tiny island has now closed its resorts. This means the best way to dive here is by staying in on one of the resorts on the nearby islands of Mabul or Kapalai.

The maximum depth at Barracuda Point is something you just don't need to explore, but for experienced divers it's worth dropping to 40m to see which big animals might be there. Reef sharks explore out in the blue and, occasionally, hammerheads are seen. Meanwhile back on the wall, the fans, corals and sponges are equally spectacular. The real appeal is actually further up at shallow depths. Here divers encounter huge schools of jacks, as turtle flit around; and as the point approaches you see the reason diving at Barracuda Point.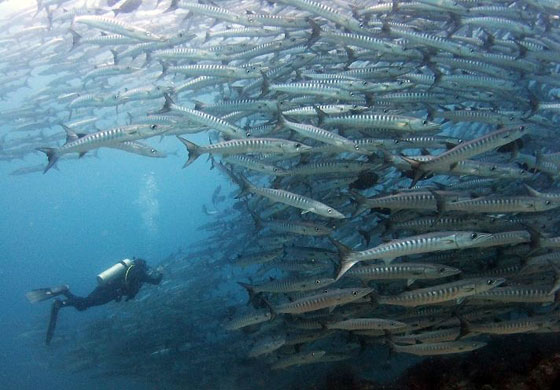 Photo: guardian.co.uk

You can dive here all year round. Overall, the best conditions at Sipadan Island exist from April to December, especially July and August. January to March can see some unsettled weather and a decrease in visibility but the resorts still see plenty of guests at this time as the diving can still be fine.

Sources: divetheworldmalaysia.com, malaysiadiving.com